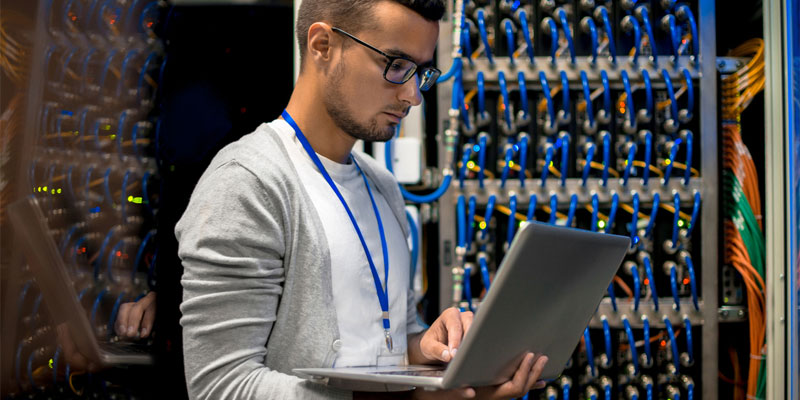 If so, you're not alone. A recent study by Strada Education found that 62 percent of Americans are concerned about losing their job. Even jobs that were once considered stable, permanent options may not be a best bet in these unprecedented times.
You don't need to go into thousands of dollars in debt in order to attain a degree or certificate that can provide you with better earnings and a higher standard of living.
If you're thinking about pursuing a new career path, resilience is what you're looking for. York Tech has the program for you this Spring at no cost. Here are some of your best options.
IT Workers
Information technology is a broad category that encompasses a lot of different career choices. As many employers made the shift to working at home, IT workers were in more need than ever. Assisting employees with home set-up and managing company networks from afar proved to be some of the most important tasks in a remote world. While the long-term effects of remote work are yet to be seen, it's possible that the work landscape has changed for good—many employers may continue to keep a section of their workforce remote, allowing for flexible hours. That means IT workers will be even more in demand.
Computer support specialist
2020 median pay: $55,510
Medical Laboratory Technicians
The job outlook for medical laboratory technicians has trended toward growth. The projections for 2020-2030 were faster than average for other industries, at 11 percent growth rate—in 2020 there were over 335,500 workers employed as medical laboratory technicians. You can train to become a medical laboratory technicians at your community college or vocational schools, very quickly. This job can be a great springboard into other careers in the medical industry as well.
Medical laboratory technicians
2020 median pay: $54,180
Automotive
Do you enjoy working on cars in your spare time? Why not use this recession as an opportunity to turn your hobby into a career? Even though many are working at home, people still need their vehicles to get to the grocery store and doctor's appointments. And with the increase of industries like Instacart and other food delivery services, those workers will need to have reliable sources of transportation. They will turn to auto repair shops they can trust, who employ certified mechanics. You could also seek a career as a mechanic at a dealership.
Automotive mechanic
2020 median pay: $44,050
Nurses
It goes without saying that hospitals need nurses. Even before the pandemic, the projected job growth for nurses was much faster than average, at 9 percent from 2020-2030. Maybe you've been thinking about getting your nursing degree for a while but haven't had the chance to make the career switch yet. Or maybe the career field you imagined you'd be in isn't the best choice at the moment. Either way, nursing is a challenging but rewarding job.
Registered nurse
2020 median pay: $75,330
Home Health Aides
As a Patient Care Technician there are a wide range of responsibilities. With a degree from York Tech, you provide quality patient care, conducting a variety of tests and monitoring patient's conditions. There's always a need in healthcare for workers with an assortment of skills. According to the Bureau of Labor Statistics, patient care technician jobs will increase by 8% from 2020 to 2030 with roughly 192,800 job openings projected each year. Supporting doctors and other medical staff, patient care technicians can work in a number of healthcare facilities. From hospitals to nursing homes to assisted living communities, see how you can improve patient care with a degree from York Technical College
Home health aide
2020 median pay: $30,830