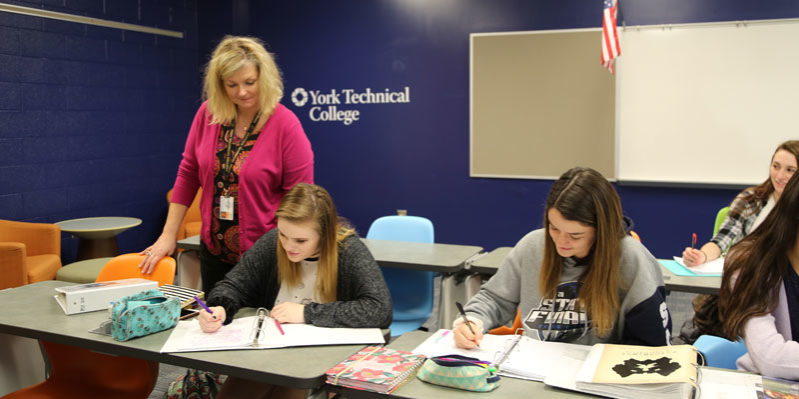 Dual Enrollment at York Technical College (YTC) gives a high school junior or senior a jump-start on a college education by providing the opportunity to earn college credit while simultaneously earning a high school diploma.
YTC partners with each school district in its service area of  York, Chester, and Lancaster Counties as well as with charter, private, and home schools in the service area to provide high school students with an enjoyable and purposeful college experience while in high school.
How does Dual Enrollment work?
High school students, age 16 or older, who meet the necessary college-level placement requirements and course prerequisites, may enroll in York Technical College courses held on campuses, at one of the College's extension sites or, in some cases, at their high school.
What classes can a Dual Enrollment student take?
YTC offers over 80 programs of study and dual enrollment students can participate in most of these programs. YTC places an emphasis on all students completing meaningful college credentials and excellence in Career and Technical Education (CATE). The College offers multiple CATE completion pathways from auto collision to welding to its dual enrollment students. Dual enrollment students can also benefit from the university transfer program, where they students can take individual transfer courses, complete the University Studies Certificate, or a transfer associate degree
How can students participate in Dual Enrollment?

 
High school students are selected for Dual Enrollment at YTC according to the policies and practices established by each high school, K-12 school district and YTC. To take dual enrollment classes students need to receive permission from their high school and meet the YTC course and/or program placement requirements with a high school GPA of 3.0 or by achieving required placement test score.
Who pays the college tuition for Dual Enrollment courses?
In some cases high school students have the tuition for their YTC class paid for by their high school. In other cases, students and their parents/guardians are responsible for the tuition and fees. Lottery Tuition Assistance (LTA) is available for students who qualify as State of South Carolina residents and who are taking at least six semester credit hours of qualifying coursework. LTA helps defray some of the dual enrollment tuition costs. Additional scholarships may be applicable to dual enrollment students.
Dual Enrollment, Dual Credit…what is the difference?
In Dual Enrollment, a student is enrolled in a course at YTC and receives college credit for it while still in high school.

Dual Credit means the student may receive both high school and college credit for the course taken through YTC. The awarding of dual credit is an option determined by the high school.
To learn more about dual enrollment at York Technical College please contact [email protected].
How to become a Dual Enrollment Student
Student meets with his/her high school counselor to obtain permission to apply to the program.

Students must meet  YTC's course and/or program placement requirements with a high school GPA of 3.0 or by achieving required college placement test scores in English, reading and mathematics.

 

Student submits (or returns) completed High School Registration Form to either their high school counselor or the YTC Dual Credit/Dual Enrollment Coordinator to register.

Student or his/her parent/guardian pays tuition if required. Scholarships are available for students who qualify for the free or reduced cost lunch program –free or reduced lunch reductions only apply for students working with their school district and on a dual enrollment pathway. Ask your high school counselor or York Technical College's Dual Enrollment Coordinator about tuition costs for classes. Beginning this fall, dual enrollment students may qualify for SC WINS, a new program to help cover tuition, fees and even books.

   

Student purchases required textbooks at the York Technical

 

College Bookstore or through their high school.

If the student wishes to receive high school credit in addition to college credit for the course, it is his/her responsibility to contact the high school.