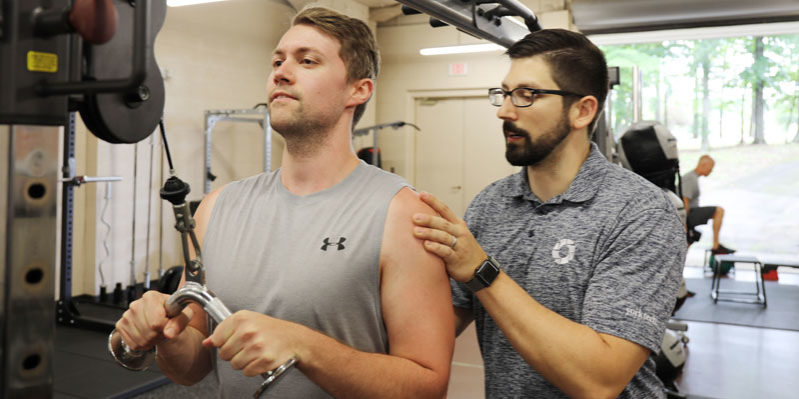 With soaring rates of obesity, diabetes, heart disease, hypertension and other chronic health conditions in the United States, the demand for cost-effective, quality health promotion and prevention is at an all-time high. Recognition of the benefits of good nutrition and exercise in preventing chronic disease has created a wide-open career path for qualified fitness professionals. 
Additionally, with the recent announcement that Rock Hill was chosen for the Carolina Panthers new headquarters and practice facility, the city's designation as a growing sports mecca is also leading to rapid growth of careers in the fitness and health industry. Related jobs in the field include personal training, strength and conditioning, physical therapy, cardiac rehab and more.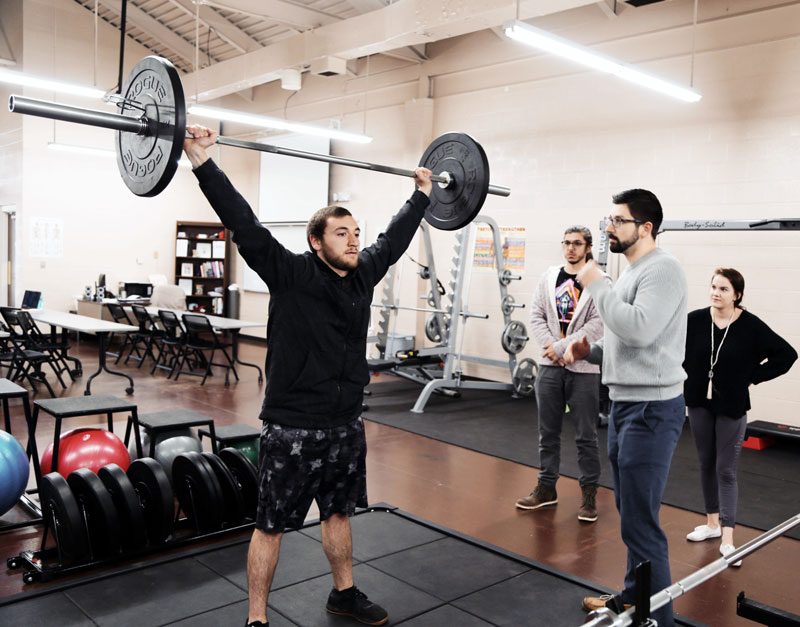 York Technical College offers a personal trainer program, a science-based education that provides a look into exercise science, clinical nutrition, and human anatomy and physiology. The academic programs at York Tech help to prepare students to earn a personal trainer certificate or an Associate in Applied Science in general technology with a specialization in personal training. 
Students are enrolling in the personal training program for a wide variety of reasons and career aspirations. Harrison Gibson is in the personal trainer program at York Tech and aspires to help people improve their lives. 
"I've lost weight and I just want to help other people do that," said Gibson. "(York Tech) is teaching me the fundamentals of how to get started in gyms, to communicate and be more outgoing with other people." 
Like Gibson, students Sarah Edge and Justin Caltagirone are also enrolled in the personal trainer program at York Tech. Edge desires to be a physical therapy assistant and obtain her personal training certification or degree. Caltagirone is exploring his options of becoming a trainer and possibly entering the physical therapy field. 
"I generally just like anything relating to how the body functions on a physical level and then the science and exercise behind it," said Caltagirone. "I feel like I've learned a lot more in the first semester than I definitely expected to. I feel really equipped with what I have so far."
Edge said the most interesting thing she has learned was about different Olympic-style weightlifting. 
"It's just something I haven't done before, but it's really nice to learn about," said Edge. 
Caltagirone says the availability of fast food encourages people to stay inside more and live sedentary lives, but he hopes to help change that.
"I feel like everybody should try to do the opposite and try to get out more, be more active, get more sunlight and just generally try to monitor their life better instead of just living on an unhealthy auto pilot," he added.
The Rundown on Fitness Careers

 
A wide range of options

 
Today's fitness centers cater to diverse populations with specific needs and programs that include personalized nutrition classes, body composition testing and weight training, massage therapy, personal training and yoga. These programs are developed for the young, the overweight, the athlete and the elderly.  
Know your talents

 
Do you enjoy exercise? Are you interested in medicine, rehabilitation, teaching or fitness training? Do you enjoy classes such as physical fitness, biology, and health or nutrition? Do you enjoy helping and working with people? If you can answer yes to most of these, a fitness career might be a good fit for you. 
Training and certification

 
Education for fitness careers can range from a specialized certification to an advanced degree. Career options include athletic or personal trainer, rehabilitation specialist, exercise physiologist, dietician, sports coach, club director, or physical therapist to name a few. 
For personal trainers and group fitness instructors, organizations such as the American College of Sports Medicine (ACSM) and American Council on Exercise (ACE) provide professional certification and licensures. This is typically required, as a minimum, as well as CPR and first aid certification for those wanting to enter the field. Many fitness centers require some type of academic credential to work in their facility.  
Gain real-world experience

 
Beyond the degrees and certifications, don't forget the importance of practical experience. Working at a gym or fitness center, coaching a sports team, or obtaining an internship at a hospital, nursing home, or doctor's office can help provide real world experience and clinical skills needed to excel in a health and fitness career. 
To learn more, visit yorktech.edu/personaltrainer.  
Health & Fitness Careers
Coach/scout
Education: bachelor's degree
Median Salary: $33,780
Fitness instructor
Education: high school diploma or equivalent
Median Salary: $39, 820
Physical therapist assistant
Education: associate degree
Median Salary: $48,090
Recreational therapist
Education: bachelor's degree
Median Salary: $47,860
Athletic trainer
Education: bachelor's degree
Median Salary: $47,510 
Dietician/nutritionists
Education: bachelor's degree
Median Salary: $60,370
Physical therapist
Education: master's or doctoral degree
Median Salary: $87,930
Athletic Coach
Education: bachelor's degree
Median Salary: $42,590
Source: U.S. Bureau of Labor Statistics, May 2018