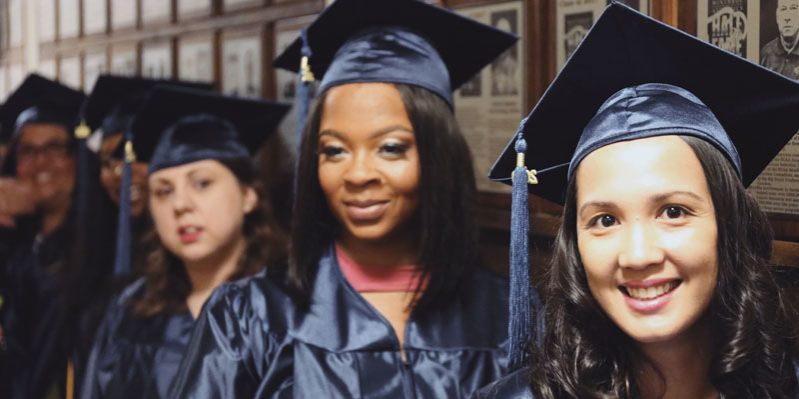 Community college pays off
Graduates who earn certificates at community colleges earn an average of nearly $9,000 more annually than those who go through for-profit training programs, according to new data from the US Department of Education.
"Some institutions are clearly paying off for graduates, offering a high-value degree relative to other institutions," the report notes. "In particular, programs offered by community colleges outperform comparable for-profit programs."
Students who attend community colleges not only benefit from higher post-graduate earnings, but they also incur a fraction of the debt borne by their for-profit counterparts.
Another study by the National Center for Education Statistics found that graduates who earned an occupational credential — such as certificates in agriculture, business, computer science, and other common programs at community colleges — had a higher rate of employment in their fields of study than graduates who received degrees in academic areas like English, liberal arts, mathematics, philosophy, or history.
Sources: US Department of Education, (http://ed.gov/news/press-releases/education-department-releases-new-graduate-earnings-data-career-college-programs); National Center for Education Statistics (http://nces.ed.gov/pubsearch/pubsinfo.asp?pubid=2016107)
Pick your battles
Almost everyone has had a coworker — or worse, a manager — they dislike. Clashing personalities can make a workplace more stressful, unproductive, or chaotic, and ultimately you still have to engage with the people you might want to avoid.
Jay Heinrichs, author of the book "Thank You For Arguing," says the best way to talk to someone you despise is to make the interaction productive by keeping it focused on a goal. As the title suggests, Heinrichs advises mastering persuasive language and making arguments constructive. 
When Avery Augustine of the career site The Muse felt a knee-jerk impulse to disagree with a coworker she personally disliked, she asked herself, "Was the idea one I truly opposed? Or was I arguing for the sake of proving her wrong?" She adds: "Once I started looking at the driving force behind my battles, I found that most of the time, I was pushing against her as a person—not necessarily her ideas."
Moreover, says Augustine, without a constructive counterproposal, opposition is simply counterproductive, and your opposition to the "difficult" coworker makes you into the difficult one.
Sources: Thank You For Arguing, (http://jayheinrichs.com/); The Muse, (https://themuse.com/advice/pick-your-battles-3-questions-to-ask-before-disagreeing-at-work)
Want to stay sharp? Keep busy
Staying busy and learning new things can keep us sharper as we age, according to recent research. A study of older adults found those with busy schedules tended to perform better on memory, logic, and information processing tests. Better brain health is correlated to many things, such as higher education and income levels. But according to Sara Festini of the Center for Vital Longevity at the University of Texas at Dallas, "busyness" in itself offers some mental rewards. "We think it is likely that being busy is good for your cognition," she says. Festoon conducted a study in which 330 men and women between the ages of 50 and 89 rated their "busyness" in response to questions like, "How often do you have too many things to do each day to actually get them all done?" The participants also took tests to measure their memory, reasoning, and other cognitive abilities. Overall, the busier people said they were, the better they did on the tests. Although many people consider a packed schedule to be a source of stress, Festini suggests that the study "provides further motivation to seek out additional activities and to keep learning new skills throughout adulthood."
Source: http://health.usnews.com/health-care/articles/2016-05-17/keep-busy-stay-sharp
Getting an associate of arts degree? You already upped your earning power!
Surprised? You don't have to transfer to a four-year school in order to leverage your associate of arts (AA) degree. The under-reported fact is that a general education associate degree already shows you have many skills important to employers.
Communications skills, writing abilities and an aptitude for problem-solving are in high demand for today's jobs.  AA degree-holders are often highly proficient at these skills. Add Adobe Photoshop or JavaScript to the mix—and you are well on your way to a well-paying job.
For example, in 2016, more than 27,000 jobs were available to community college graduates with knowledge of the software Salesforce. These jobs paid, on average, $64,000 a year—$24,000 above the median salary for those with that added experience. Other sought-after skills which associate degree holders often possess include: project management, team management, business development or budgeting. In other words, combining skills you already mastered, coupled with an additional short-term credential or certificate may well be just the ticket.
The takeaway: Your skills, not degrees, are increasingly important in the changing job market. 
Source: Saving the Associate of Arts Degree. https://aei.org/wp-content/uploads/2018/01/Saving-the-Associate-of-Arts-Degree.pdf