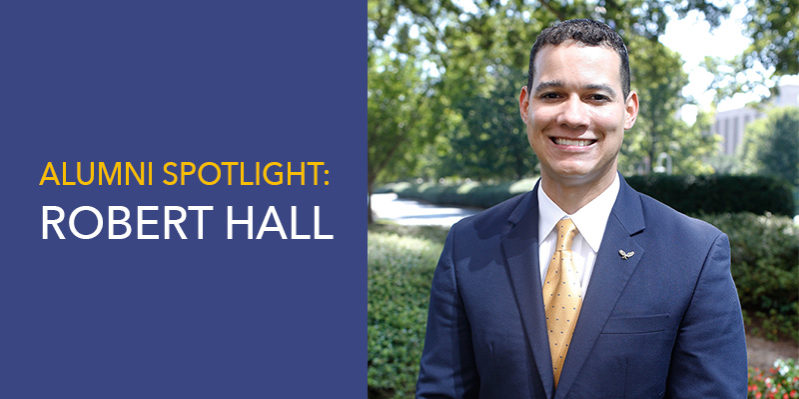 A York Technical College Education Can Take You Anywhere
Since opening our doors over 50 years ago, York Technical College has heard countless heartfelt and compelling stories from students and graduates on how York Tech has played an instrumental role in changing their lives. We couldn't be more proud that individuals like Robert Hall are sharing their journey and standing behind our mission: "Building Our Community through Maximizing Student Success."
When Robert Hall was in high school, he had no plans to attend college upon graduating. Without the support or encouragement from his secondary school instructors to lead him to higher education, he took a position working at Springs Industries at the age of 19 operating a forklift on third shift.
"I was working 75 hour weeks," stated Hall "That's when I really began thinking that I could do more with my life, more than drive a forklift."
York Technical College exists to serve our community and more specifically, the counties of York, Chester and Lancaster. Being a local resident, Hall had heard of acquaintances attending York Tech and decided to visit the campus to learn what options were available for him. After a visit to Student Services, Hall met Michael McClain, the Machine Tool Technology Department Chair and Michael Jones, a Machine Tool Technology instructor. It is this moment that Hall his attitude towards himself and his future changed.
"When I met Mike and Mike they sat and spoke with me and from the very beginning, told me I could do great things. That if I really applied myself, I would see big changes and the opening of many doors. It's instructors like them that truly nurtured my potential. They saw it, what I could do, what I could be, and I cannot emphasize enough how much that helped me."
From here, Hall began pursuing a degree in Machine Tool Technology while working full-time. With the support of York Tech staff as well as his employer, a flexible schedule was created so Hall could attend classes and maintain a consistent work schedule.
The Machine Tool Technology program at York Technical College is a National Institute for Metalworking Skills (NIMS) accredited program.  This curriculum prepares students, just like Hall, for career opportunities in modern computer integrated manufacturing environments as machinist, tool and die makers, manufacturing process technicians, quality control technicians, CNC programmers, CNC setup as well as operation technicians.
In an effort to open more doors academically, Hall choose to return to York Tech and earn a second degree in Mechanical Engineering Technology. Upon graduating, Hall went on to attend UNC Charlotte for his Bachelor of Mechanical Engineering where he earned a 3.75 GPA his first semester. "I was nervous about beginning at UNCC, but York Tech gave me the foundation I needed to be successful there." Hall later earned his Master of Business Administration from the University of Dallas and a Master of Science in Management, Strategy, and Leadership from Michigan State University. He also earned a Green Belt in Lean Six Sigma from North Carolina State University.
Currently, Hall serves as part of the management team at DAK Americas, headquartered in Charlotte, North Carolina. As a corporate manager, he directs all innovation, cost elimination, and large capital expenditure projects in 14 locations throughout the United States, Mexico, Canada, and Argentina. His department, Growth and Development, oversees acquisitions, financial planning, market analysis, and strategic growth initiatives to accomplish business objectives.
While Hall has worked tirelessly to earn multiple academic achievements and career advancements over the years, he has remained humble and passionate about the importance of education and helping others reach their full potential. Hall and his wife, Jan-Rae, support multiple charitable organizations within their community and in the Philippines.
When asked what he would want to share with students and individuals interested in attending York Tech he stated that, "The smaller classes were great for learning and the invested teachers really welcomed me like a family. I've never forgotten that. I truly believe the foundation, confidence, and skills you acquire from York Tech, you can take and apply anywhere to achieve your dreams and goals. I'm a living example."