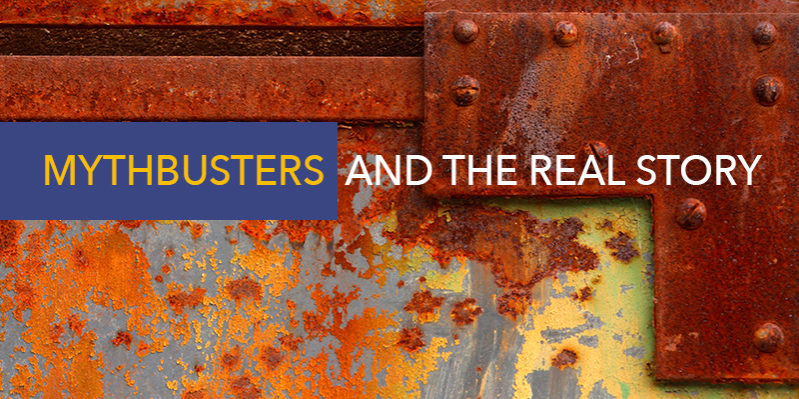 York Technical College:
Mythbusters and the Real Story
York Technical College accepts everyone.
The College has never pretended to be an exclusive club. There is no required ACT or SAT cutoff score for acceptance. The College is affordable even for those who believe a college education is financially impossible. Students quickly learn that faculty and staff pay close attention should someone become  lost – on campus or in a difficult class.
The people of York Tech are also busy playing "mythbusters" by sharing the real success stories of students and alumni, what the College experience should deliver for everyone and the value of every student's time and money.
We're going to explore and dispell some of the myths associated with a technical college education:

Mythbuster #1:
A four-year college degree is required for a successful career.
The myth of the four-year degree as the best option for college-bound students still persists, even when economics and our job market suggest otherwise.
According to a 2010 Harvard University Graduate School of Education study, by 2018 only 33 percent of all jobs in the U.S. will require a four-year degree or more, and 57 percent of jobs will require an associate's degree earned at a two-year community or technical college like York Tech. This employment market phenomenon has been expressed by researchers using three numbers – 1, 2, 7. For every one professional job that is acquired by earning a master's degree or higher, there are two jobs that require at least a bachelor's degree and an estimated seven jobs in America that require employees to have earned a certificate or diploma credential.
For students and families debating between a two- and four-year college degree, the greatest influences is the return on investment of their choice.
"York Tech was the best financial decision for me compared to the other universities and community colleges I was considering", Taylor Davis stated. "By attending York Tech I've been able to save so much. "
For Margaret Woelffur, York Tech has been able to offer affordability and convenience. "Not having to to spend money on a dorm or a meal plan is such a relief; York Tech has everything I need on conveniently on campus."

Mythbuster #2:
Nothing will replace the classic model of higher education – the traditional classroom and direct instruction.
This misconception is dispelled a little more every year. Online and blended learning, "flipped" classrooms with their focus on student-led engagement and the trend toward "makerspaces" are all redefining the ways we learn.
Certainly not the exclusive domain of community colleges, makerspaces for students are the norm at York Tech What is a makerspace? Commonly referred to as a hands-on learning environment, a makerspace encourages student-to-student collaboration and self-directed learning. From Automotive Technology to Health Sciences to Manufacturing, our students experience a collaborative work space to grow and develop their skill set.

Mythbuster #3:
Living away from home gives me more freedom and none of my friends are going there.
This sentiment is easy to understand, yet experience teaches us differently. The perception of greater freedom, being away from mom and dad's prying eyes, often comes at a hefty price. Students who embarked on their college journey miles away from home often report feeling disconnected, experience social withdrawal and ultimately, struggle academically. While moving away from home may be exciting and fun, the experience is not for everyone or is just not at the right time.
"While I may not have gone far to attend college, I believe I have gained a great sense of independence since starting at York Tech," said Georquel Goodwin. "I've been given access to so many opportunities including volunteer efforts and they have really assisted in my growing independence." 

Mythbuster #5:
Community colleges do not offer the "real" College experience.
This is another myth busted easily by individuals who like to take charge of their free time when outside of class and library study sessions.
Students at York Tech have the opportunity to participate in service learning activities, join or establish clubs and organizations or even just relax in the courtyard playing corn hole with friends between class.  If your objective is to build an impressive résumé, community colleges have the right ingredients. Student leadership positions, professional organizations, music performances, volunteer work, featured speakers and other activities designed specifically for U.S. military veterans are all impressive opportunities that are not unique to four-year universities.
[One College. Many Opportunities.]  yorktech.edu/admissions