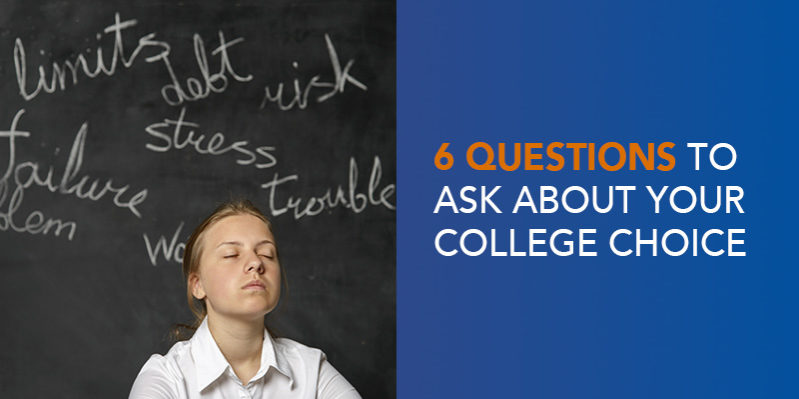 By Naomi Sheehan
In an era of high college costs, long-term student debt, and an uncertain job market, students and parents are compelled to consider a college degree as a serious investment. Measures like price, debt, and post-graduation employability and pay outlook must all be weighed in deciding on the quality of a school.
How can you make a wise choice? Posing the following questions can help you chart your educational course.
1. What are the costs?
Cost is a — if not the — prime consideration for most students and their families.
Community and technical colleges serve local communities and are a fraction of the cost of public four-year universities, private schools, and for-profit colleges.
For the 2015-16, the College Board reports average tuition and fees for public two-year community and technical colleges across the country at $3,435. By comparison, the average cost of attending a for-profit school is more than quadruple the cost of a local community college.
Tuition and fees in South Carolina, 2016-17
School type
Community and technical college $4,940
Public four-year (in-state) $7,376
Public four-year (out-of-state) $17,160
Private nonprofit four-year $22,187
Source: trends.collegeboard.org, collegetuitioncompare.com
2. What programs are offered?
Community and technical colleges offer dozens of Associate degree programs, including some that lead toward a bachelor's degree or higher through a transfer track, as well as short-term certificates taking a matter of months to complete.
These range from industrial and technical, medical and STEM-focused, socially oriented criminal justice and education degree options, to traditional humanities and sciences programs.
3. What are the economic outcomes for graduates?
Most students are rightly concerned about landing a job after earning a degree. Are the skills you learned in college applicable in the workforce? Or to put it another way, does a college live up to its claims in terms of providing a better future for its students?
While community and technical colleges are sensitive to local economic shifts and the needs of industry in their service areas and tailor their courses accordingly, most four-years and for-profits are less responsive. Community and technical colleges frequently forge partnerships with industry to help their students get cutting edge skills and get into the career pipeline.
Resources
Compare and rank schools: collegescorecard.ed.gov
Net price calculator: collegecost.ed.gov/netpricecenter.aspx
Apply for financial aid: fafsa.ed.gov
4. How much debt will I take on?
Because of the low price of community and technical college coupled with financial aid, many students graduate with little to no debt. For the 2016-17 school year, the maximum Federal Pell Grant is $5,815. This often leaves money for books and other needs. The College Board reports community college students in 2015-16 had an average $770 left over after financial aid.
This is perhaps the "best kept secret" of community and technical colleges — unfortunately for students who enroll in for-profit schools and wind up saddled with huge debt loads and damaged credit ratings.
While for-profit schools account for about 8 percent of the total higher education student population, these students make up a whopping 44 percent of federal student loan defaults. Starting at a community or technical college can mean avoiding a lifetime of financial headaches.
5. Will my credits transfer?
Most community and technical colleges have "articulation agreements" with four-year schools, and advisors to help you plan your transfer in advance.
Articulation agreements — like a 2+2, taking two years at a community or technical college and two years to finish at a public four-year school — ensure you don't waste time or money earning your Bachelor's degree.
6. What resources does the school provide to help me succeed?
Community and technical  colleges place a premium on helping students complete their goals, even when life is complicated by work and family obligations. Most two-year schools offer flexible and online class options that work around your schedule.
Student success often comes down to the resources a college can provide outside of the classroom. Financial advising, career placement, tutoring, and other student services are vital for navigating higher education. Community and technical colleges offer a unique support system to students.