Are you Ready? Over 7,000 Jobs Coming to York and Chester Counties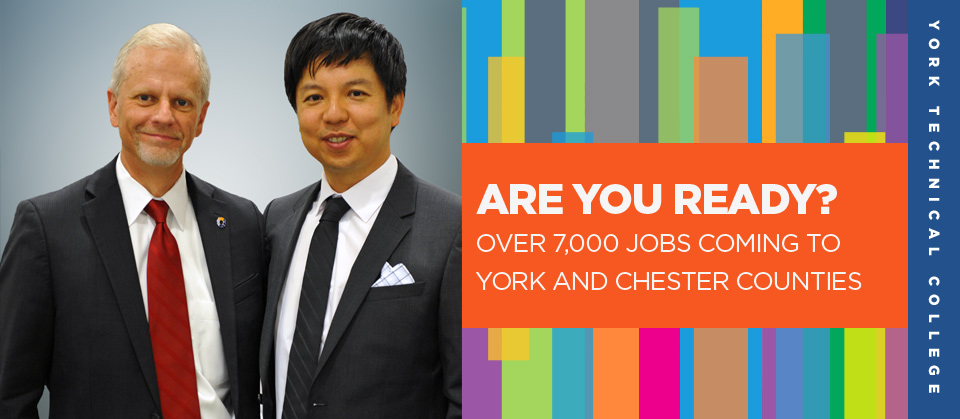 In mid-June, York and Chester Counties announced over 7,000 new jobs, providing a platform in economic development growth in the area. York Technical College continues to be a key reason why companies want to do business in this region.
Three major companies plan to build and or relocate major operations to the area.
Giti Tire, a Singapore-based tire manufacturer, will open its first North American based plant in Chester County, which is anticipated to create about 1,700 new jobs over the next decade. Giti Tire's arrival in Chester County will solidify South Carolina's standing as the leading tire manufacturer and exporter in the United States, producing 84,000 tires a day. York Technical College has the honor of providing Giti with transitional office space at the College's off campus Chester Center.
Lei Huai Chin, managing director of Giti Tire Group, called Chester County an "excellent location" for the new plant and met numerous times with York Technical College administrators prior to finalizing the move. "We've built a great partnership with Giti Tire Group in support of their move to the area, and look forward to providing them with the resources, and skilled workers to continue to grow and expand their business," commented Dr. Greg F. Rutherford, York Technical College President. York Technical College in collaboration with ReadySC, will work with Giti Tire to recruit and train workers who will both make and distribute tires.
Commerce Secretary Bobby Hitt says the announcement bolsters the state's reputation as the nation's tire capital. Michelin, Bridgestone, and Continental also have announced new or expanded facilities in the last few years.
Giti Tire holds the 10th highest sales revenue by production value among tire companies, and is expected to assist in Chester County's economic growth. The tire plant is expected to keep workers in Chester County as well as draw workers from nearby counties, which have also struggled with high unemployment rates.
Lash Group, a healthcare consulting company, will also create more jobs in the area by moving its headquarters to Fort Mill. While the building construction will not be complete until March 2016, the Lash Group plans to bring 2,400 jobs to the area, including current associates and new hires from the rich talent pool in York County. The company works on behalf of healthcare providers and pharmaceutical companies to help patients navigate the healthcare system. York Technical College's Hood Center hosted the Lash team's visit to York County during the preliminary discussions and meetings regarding this $57.3 million initial investment.
In addition to Lash Group, LPL Financial will be moving from Charlotte, NC to Fort Mill. The financial services firm will move about 1,000 employees who work in three southwest Charlotte buildings to a new campus it will start building in 2015. The total job count planned for LPL will be well over 2,000 with a total investment of $150 million dollars.
"If you look at all three announcements, they're all three completely different, but they're all three such solid, well quality companies that are really investing in our workforce and giving us the opportunity to show what we can do," Governor Nikki R. Haley said. "It is the reason they are calling us the beast of the Southeast."
These major economic developments translate into more job opportunities for you. Are you ready? York Technical College will be a key partner to train and provide talent that can contribute to their success. Be ready. Start now. Enroll today at yorktech.edu.