Students Get Ahead With Dual Enrollment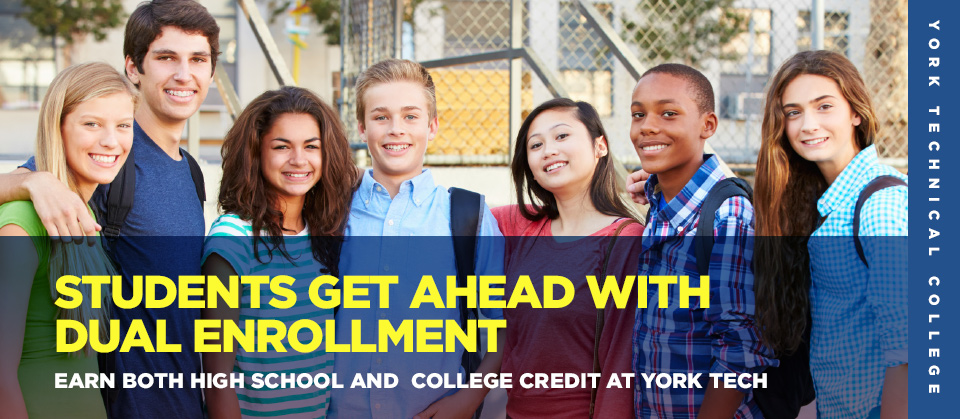 York Technical College's Dual Enrollment program allows high school students to earn college credits while still in high school. In fact, many students complete large portions of their freshman year of college while still in high school.
Earn Both High School and College Credit At York Tech
Course Availability
York Technical College offers a variety of courses that can be taken by dual-enrollment students. Courses range from general education sections in english and math to career education courses.
Transferable Courses
York Technical College has many courses listed on the statewide articulation list of transferable courses to public institutions. Other courses may be requested, but transferability is not guaranteed.
Most colleges require a grade of "C" or better for transfer. Depending on the choice of courses taken and the major selected at the senior institution, courses may transfer to other colleges.
Testing
Students are required to meet the appropriate placement test scores to be accepted into the dual enrollment program at York Technical College. High school students who require special testing should contact Counseling and Support Services at (803) 327-8007.
Tuition
The cost for district-sponsored high school students varies. Contact your high school for cost information.  Non-district sponsored high school students can view YTC tuition rates online. Students enrolled in at least six credit hours may be eligible for Lottery Tuition Assistance to help offset the cost of tuition.
Books & Other Fees
District-sponsored students may receive books to use for dual-enrollment classes. Contact your high school for more information. Non-district sponsored high school students may purchase their books at the York Technical College bookstore located in the Student Center.
Admission Requirements:
Obtain high school junior status and be at least 16 years old.
Complete the college application
Provide a letter of permission from your parent and high school principal or guidance counselor.  Home school students must receive permission from their home school association.
Take the placement test or provide SAT or ACT scores.
Submit a FAFSA Waiver Form if registering for six credits hours per term in order to receive Lottery Tuition Assistance.
For more information on dual enrollment, contact your high school or Enrollment Services Counselor Sarah Mickel at (803) 981-7061.
York County School District 1 Partners with York Tech to Build Success
York County School District One and York Technical College have a strong partnership for success.  For a number of years, students from the district have participated in the Western York County Middle College, allowing high school students to earn college credit while completing high school.
This relationship has been further strengthened by our joint efforts to increase the number of high school students (from York Comprehensive High School and the Floyd D. Johnson Technology Center) attending and completing York Tech programs while still enrolled in high school.  The district has aggressively promoted a college-going culture for its students.
"I enjoy working with the YCHS and FDJTC faculty and administration. They are enthusiastic, dedicated, and have their students' best interest at heart. It is a pleasure to work alongside them to build a true partnership that will benefit many students," said Associate Dean of Arts and Sciences John McGill.
Many of these students will start their college course work while enrolled in high school, and will continue their education at York Tech after graduating high school. This enhanced partnership between the York School District and York Tech enables students to receive a high-quality education while allowing their families to save money on higher education costs.
Economic growth in York, Chester, and Lancaster counties is dependent upon a highly skilled workforce.  Through partnerships like the one with York School District One, York Tech is working to meet the demand for skilled workers.  These partnerships also facilitate students' ability to continue their studies at universities.  These actions illustrate York Tech's mission of building our community through maximizing student success.
From YTC to Bachelor's Degree
Dual-enrollment classes are a great way to earn advanced college credit and save money on tuition, but they are not the only option available at York Technical College for students headed toward a bachelor's degree. Dual-enrollment students may continue their journey after graduation at York Tech in our University Transfer or Bridge program. University Transfer students have continued their studies at institutions such as Clemson University, Duke University, Georgia Tech, Liberty University and UNC-Charlotte.
Bridge programs are specially designed to make your transition from York Tech to a four-year college as seamless as possible and to increase your likelihood of success once you are enrolled at your chosen institution. York Tech has Bridge programs with the University of South Carolina, College of Charleston, Lander University, and Winthrop University.
So, wherever you are headed, you can start at York Tech and get there– and you will save money along
the way.